Rattan Bamboo Shades Blinds with Liner/Lining
Q:
Do rattan bamboo shades blinds come with a lining for thermal protection?

A: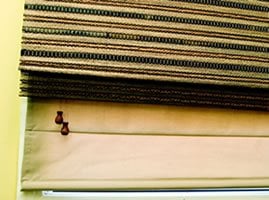 Our standard rattan blinds do not come with a privacy or thermal liner. Each rattan shade does have an optional upgrade to add either a privacy or a blackout liner which also ads some insulation.

Most of the bamboo blind liners come attached to the blinds them self so they raise and lower with the blinds. Some of the woven wood shades offer a movable liner which allows the liner to be raised and lowered independant of the blinds. The advantage of this is when the liner is raise while the rattan shades are lowered the blinds filter light and still provide privacy during the day. You can lower the liner at night for privacy.

Also on our Tavarua bamboo shades we are currently offering free liners on purchases of 4 or more shades so now is a good time to buy if you want to add the liners.
1
answers