Q:
How wide are the plantation shutter louvers?
A: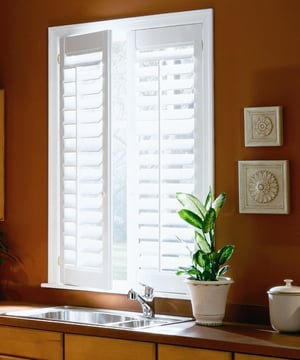 Plantation shutter louver sizes vary by the product. Most of our shutters have an option to select the louver size you want. Typical louver sizes range from 2 1/2 inch louvers to 4 1/2 inch louvers.
Louvers are the parallel slats that are horizontal on a window shutter. The size of the louver refers to the width of slat or the spacing between the louvers. Smaller louvers are typically found on smaller windows. Wider louvers block less light and view when the shutters are open as there are less louvers. They also look less busy in the window frame.
Plantation shutters are great insulators as well as ideal for light control and privacy. Blinds Chalet offers both
real wood shutters
as well as synthetic
faux wood shutters
. Shop online and save with our excellent prices!
Bookmark/Share this page: