Decorative Fabric Tapes on Wood Blinds
Q:
What is decorative tape wood blinds?
A: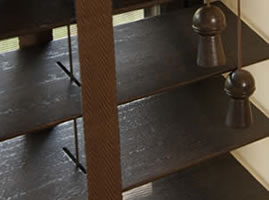 Decorative Fabric Tapes

Standard real wood and faux wood blinds come with ladders made from cords that move the blind slats when the tilt mechanism is operated. The cords for the ladders run along the outside of the blind slats.

A decorative tape ladder is made from a wide band of colored fabric. This fabric replaces the standard cords that run along the front and back of each blind slat. Because the tapes are made from fabric, a wide selection of colors are available.

Decorative tapes serve multiple purposes. Fabric tape blinds add style and elegance and are a great way to accent the colors in the room. Not only do decorative tapes add color, they add privacy and light control by blocking additional light that passes through the route holes when the venetian blinds are closed.
1
answers