Q:
I was wondering if you sell a style of blind I could use on my door. It would need to have a frame, or some sort of footer to secure it on the bottom and keep it from swinging when I open and close the door. Please let me know.
A: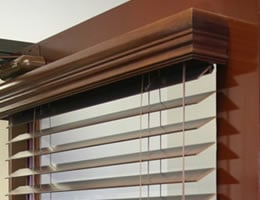 Almost all of our window blinds and shades may be used on a door application. For door mount blinds you want a product that is secured at the bottom to keep them from swaying when the door is in operation. Simply request hold downs when you order.

Horizontal blinds such as wood blinds and faux wood blinds are able to tilt open but must be removed from the hold down brackets in order to raise the blinds. Slimmer 1" blinds typically are a better option than traditional 2" blinds as they do not extend as far off the door. Consider top down bottom up blinds as the blinds may be lowered from the top down. This allows the blinds to open without removing any brackets.

Another thing to consider is the lift cords. Dangling lift cords can interfere with closing the door. If you choose a window treatment with cords, order them with the cords on the hinge side of the door. Cordless shades are also an excellent option as there are no cords.
1
answers