Q:
It appears that the Top Down-Bottom Up upgrade is not available on any small honeycomb cell shades. Is that the case?
A: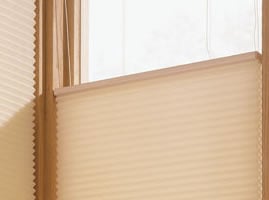 Most honeycomb cell shades must be wider than 24 inches to be made with the top down bottom up option. The reason for this is there needs to be room for both a raise and a lower mechanism in the headrail of the window shades. Top down bottom up shades are made with a lift cord on one side an a second cord on the opposite side that lowers the shades.

Top down bottom up window shades are a great way to let light in the room while still providing privacy. Because the window shades can be lowered from the top down the bottom portion of the window stays covered while the top part of the window allows light in the room.

Top down bottom up is available in many different types of window shades including honeycomb cell shades, pleated shades, and roman shades.

Shop our complete line of top down bottom up shades and get free shipping on your order!
1
answers