Q:
I'm looking at purchasing more of your faux wood blinds. I was wondering if I select "No" for cornice style valance will I receive a valance that is flush with the headrail/wall rather than one that sticks out?
A: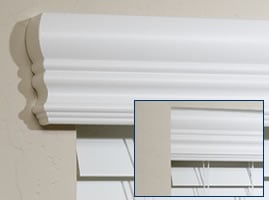 Yes that is correct for an inside mount blind. A standard valance for an inside mount window blind ends flush with the edge of the headrail and will fit within the window frame with the blinds. Our cornice style valance sits outside the window frame and is cut about two inches wider and has returns to bring it back to the wall.

All of our wood blinds and faux wood blinds come standard with a valance. Most companies simply offer the standard valance with no option for the cornice style. This free upgrade is available on most of our wood and faux wood blinds and is preferred by the majority of our customers. If your window has existing trim or molding that you are not removing we do not recommend the cornice style valance as it will over lap.

Shop our selection of faux wood blinds, get free shipping and a free cornice style valance upgrade. Do it yourself with our easy to install blinds and save big!
1
answers