Q:
Which type of shutters are better, real wood shutters or composite poly shutters?
A: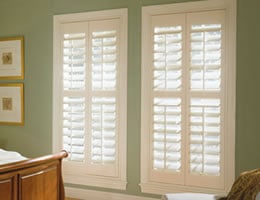 When choosing between real wood shutters and a synthetic material shutter, the first question to ask is color. Do you want a real wood stain or a painted white shutter? If you are wanting a stain color, real wood shutters are the best choice as real wood look better. If you are looking for a white paint shutter, we recommend composite shutters. Composite shutters are made from synthetic materials but look just like of real wood shutters at a lower price and they typically last longer.

There are different options for shutters made from synthetic materials. Choose from either a solid composite material shutter or a poly resin shutter.

Solid composite shutters are made from real wood and synthetic materials molded together to make a durable, long lasting shutter. They will have solid louvers, stiles, rails and frames.

Poly resin shutters are made from extruded vinyl materials. Louvers are typically hollow for added insulation. The stiles, rails and frames can be both hollow or filled for added stability. Poly shutters are typically the cheapest shutters but are still a great shutter.

Whether you are looking for a real wood shutter, a composite shutter or a poly shutter, Blinds Chalet has a great selection. Buy shutters online, do it yourself and save big.
1
answers