Q:
The picture of the Day and Night Honeycomb shade shows the blackout shade covering only the bottom half of the window, with the filter shade on the top half. Does this indicate that the blackout shade raises to cover the window from the bottom up? Does the filter shade lower from top to bottom?
A: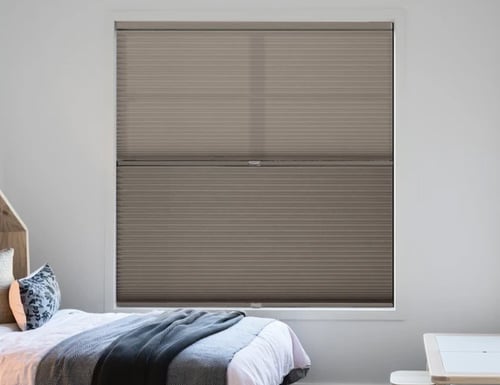 Day & Night Honeycomb Shades

Day and Night cellular shades are two shades attached with middle rail between them. The bottom portion of the shades is blackout honeycomb shade. The top window shade is either a light filtering fabric or a sheer fabric cellular shade. The day night shades have 3 positions.
The blackout fabric lowered for light control and privacy.
The sheer fabric or light filtering fabric covering the window for filtered light.
Both the blackout fabric as well as the light filtering or sheer fabric raised for a complete unobstructed view.
Day night shades are designed with the benefits of privacy/blackout shades, as well as a light filtering window shade. This allows the window shades to provide privacy and light control with blackout fabric as well as filter uv rays during the daytime to give light to the room.
1
answers