Q:
I see you have a promotion for free edge binding on the woven wood shades. Is it possible to have the edge binding on them as well as the top-down/bottom-up option? I think it would look really good, but other manufacturers do not do it.
A: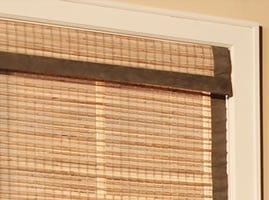 Bamboo Shades w/ Edge Binding

Yes. Our Tavarua bamboo shades can be made with both the top down bottom up upgrade along with edge binding.

Edge binding is simply fabric that wraps around the edges of the woven wood shades. It not only adds color it protects the delicate edges of the bamboo from snags, breakage, etc. At Blinds Chalet we offer our edge binding for free because we feel it adds value and quality to our bamboo shades. This is a significant savings of as much as $35 per shade.

The top down bottom up option allows the woven wood shades to be both raised as traditional window shades or lowered from the top down. This upgrade is great for blocking the bottom portion of the windows, allowing light to enter at the top of the windows. Because the bottom portion is blocked the bamboo shades still provide privacy to your windows.

With free shipping and free edge binding now is a great time to buy bamboo shades!
1
answers