When to Order 2 in 1 Blinds - 2 Blinds on 1 Headrail
Q:
When is it necessary to order 2 in 1 blinds? I have a large window and wonder if I need to order 2 blinds on 1 headrail.
A: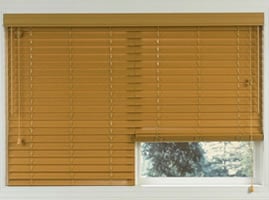 2 Blinds on 1 Headrail

Large windows can be difficult to cover. Horizontal blinds such as wood blinds or faux wood blinds have limitations to their size before they become too heavy, making them hard to raise and the cords and mechanisms wear out faster. When horizontal blinds become too large we recommend splitting the window into multiple blinds. This can be done with two separate blinds or with 2 blinds on 1 headrail.

The exact size which multiple blinds is required varies by product as well as the over size of the blinds. Faux wood blinds are heavier than real wood blinds and therefore cannot be as large. The size requirement for multiple blinds is based also on the width and height. A very wide blind typically requires multiple blinds unless the blind is not very tall. Typically faux wood blinds over 72 inches and wood blinds over 78 inches. The size will vary by product. Our website will notify you when your blind requires 2 in 1 blinds.

2 Blinds on 1 headrail is actually two separate blinds sharing a common headrail and valance. Each window blind operates independently of the other with it's own set of lift and tilt controls. The size can be split evenly or each blind can be different sizes such as on a 3 on 1 headrail where you may have the side blinds the same size and the center blind another.
1
answers