Edge Binding on Bamboo Woven Wood Shades
A: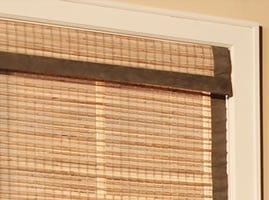 We offer free edge binding with the Tavarua woven wood shades on all the styles and patterns other than the Laguna Umber. This bamboo pattern is too thick to sew an edge binding on it and therefore we do not offer it as an option on that pattern.

Edge binding is a fabric sew on the edges around the woven wood shades. This fabric is available in a wide selection of colors. Edge binding allows the bamboo shades to be personalized with a color of your choice. The edge binding also helps strengthen the edges of the bamboo from fraying and breaking.
1
answers