SheerWeave 3000 Solar Screen Shades - Roller Shades
Q:
We're interested in buying your solar shades for some rooms looking over a view. We prefer the SheerWeave 3000 material with its 14% openness factor. If we ordered the solar screen shades with cords would it be possible to convert to motorization in the future. What size and types of tubes do the blinds come with? Are they 1 1/2" aluminum tubes with the internal ribs?

A: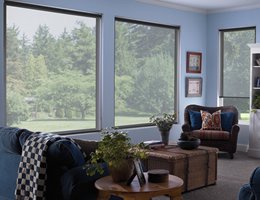 SheerWeave 3000 Roller Shades

Our standard tube size on our solar screen shades is 1 1/2" inches. In order to convert the roller shades to motorization, it would need to be changed to an larger 1 3/4" tube. We recommend for the cost involved to change it is best to order the shades with motorization at the time of order.

Our SheerWeave roller shades come with ribbed aluminum tubes. They use a secure grip spline that attaches the solar screen fabric to the tube. This creates a more secure bond as well as better alignment of the fabric.

Screen roller shades come in various openness factors. The lower the percentage of openness, the tighter the weave of the fabric and the more light the shades block.

Solar shades are an excellent way to filter harmful UV rays, reducing heat gain, while not obstructing the view. Because SheerWeave roller shades are made with a screen fabric they do not provide complete privacy. Screen roller shades are ideal for offices, restaurants, family rooms or other rooms where privacy is not an issue. Buy your solar screen shades from Blinds Chalet today!
1
answers