How to Choose a Layout for Your Kitchen
Apr 30 2013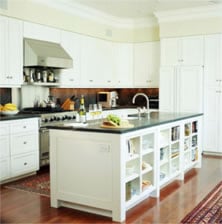 If you're considering remodeling your kitchen then there are many decisions to be made. Kitchen cabinets are one of the most expensive parts of your kitchen budget. Not only do you have the exciting, and sometimes daunting task of choosing your cabinetry, but also you need to plan the layout for your kitchen so as to make the best use of the available space.
The overall layout of your kitchen will ultimately affect how you use your kitchen so it's important to get the layout right. Kitchen design is very different today to how it was say 10 years ago. Then a kitchen was used primarily for preparing and cooking food but today, it's true to say it really is the hub of the home and is used for a variety of purposes.
In many houses kitchens are replacing the Great Room and are being used for family dining, entertaining friends, and a place for the kids to do their homework, a makeshift office, and even a place for arts and crafts. So when thinking about the layout of your kitchen, do keep in mind what you will be using it for.
Here are a few more key points to consider when planning your layout:
Arguably, no kitchen can ever have enough countertop space, so you might want to consider having a kitchen island to give you extra countertop and storage space. Kitchen islands can be used to good effect for additional storage. If you're buying new kitchen cabinets to make the basis of a fixed kitchen island then why not consider buying accent cabinets which are a contrasting color to your main cabinets. For example if you have chosen white kitchen cabinets with a dark colored countertop, then you could choose black kitchen cabinets with a light colored countertop for your island. This adds contrast and a new dimension to the overall look of your kitchen.
Considering installing two sinks into your kitchen, particularly if you tend to cook together. That way you have one sink for food prep and another for the dishes.
Bulky items like microwaves and food mixers can take up a lot of room on a countertop so why not consider placing the microwave inside your island cabinetry and use pull out shelves to store things such as mixers and heavy pots or pans, so as they're readily available but not taking up precious countertop space.
Make sure you have enough room to move around freely. If you don't have space for a fixed island then consider having one on wheels with say a butchers block on top and an open space beneath for storage. This way it can be wheeled to wherever you need it. If you're using your island for a breakfast bar as well, then consider having an overhang of the countertop so that stools can be tucked out of the way.
If installing a fixed island then have some electricity outlets installed. This way you can create cubby holes for things like cell phones to rest whilst they are re-charging, and you can plug in hand mixers and blenders to use at the island.
Finally, if storage is a major problem then why not consider pantry cabinets. These maximise the space from floor to ceiling and you can use the upper shelves for items which you don't use all that often.
When it comes to buying your
kitchen cabinets
be sure to make use of the free design service, which most stores offer. That way you can see your design in 3D and armed with some of your suggestions, the kitchen designer can come up with the perfect layout for your space and needs.
Bio:
The author is an Interior designer and has been writing on home improvement ideas from couple of years. The author holds an expertise in Kitchen Renovation projects and works for the RTA store.
Want to participate in the Blinds Chalet community?
View details
Post a Comment