Adding a Feminine Touch to Your Decorating
Mar 25 2013
When it comes to decorating the current trends seem to be on the side of clean, modern, and minimalist. While those styles are certainly attractive, sometimes they can give your home a stark or cold feeling to it. To counter that feeling many people bring in dark pieces and more masculine furniture. However there is also a group that prefers to keep it light and open while still making it feel homey. Adding a feminine touch to your home's décor is well worth the time and effort it takes to find those small pieces that add up to so much. Here are some simple ideas to give your home a more feminine touch: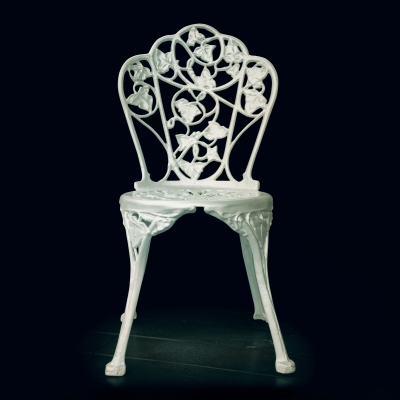 1.
Floral patterns
– Floral patterns are very feminine. They soften up a room by bringing in feelings of nature and peace combined with light, natural colors. Floral patterns can be found in practically anything. Light pastel curtains, windy and irregular chairs, throw pillows and accent rugs all come in floral patterns. There is even wallpaper that had a floral pattern that can match even the most modern of décor. Throw out your idea of your grandmother's busy and bold rose printed wallpaper. Instead go for something more simple and tasteful like tiny buds or ivy vines. You can also do floral accents with knick-knacks like teapots and tea cups, lamp shades, and floral patterned chandeliers.
2.
Pastel colors
– Like I said earlier, pastel colors have a very calming and feminine edge to them. They can make a room feel like a home without adding anything jarring or overly masculine. Pastel colors can be easily integrated into many parts of your home. A kitchen can be painted in beautiful shades of pale yellow for a relaxing environment. Classic pale Tiffany blue is always in style and looks great on dining room furniture. Peaceful shades of green bring life to a living room and sky blue is great for a bedroom. Match with cool colors like stark white for a crisp and clean look or pop up the color with neon accents.
3.
Careful clutter
– There is nothing that makes a home looked more lived in than a bit of clutter. That does not mean your home is dirty or disorganized, but a bit of carefully chosen mess will do wonders to bring life to a room. Make a centerpiece out of a collection of mismatched china, decorate your coffee table with doilies and lace, or add a touch of the whimsical to your bedside table with a collection of your favorite books. Clutter is what makes a home feel like somewhere you live, so take a chance and fill in those bare furnishings with things you love.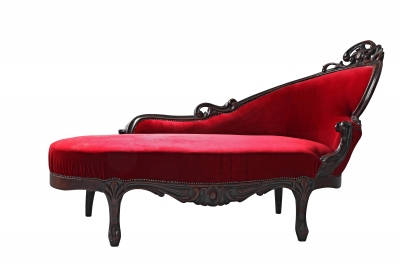 4.
Antique finish
– Shabby chic is the new go to style for many homeowners looking to give their home a more feminine touch. Things with antique finishes or an older feel give that to you. Look for peeling paint, rust and classic lines to really give your home that rustic, old world appeal. Try to liven up things with a coat of paint that is then weathered for appeal or even a mismatched set of chairs around your dining room table. All these small things can add up to a big change in your home's décor.
5.
Overstuffed and lacy
– While modern furnishings go for low and sleek, more feminine furnishings look for soft and comfy. Look for overstuffed sofas and deep seats. Think rocking chairs and throw pillows. Long afternoon naps on a daybed and casual nights spent by the fireplace on a warm and fluffy throw rug. Soft an appealing is the way to go here.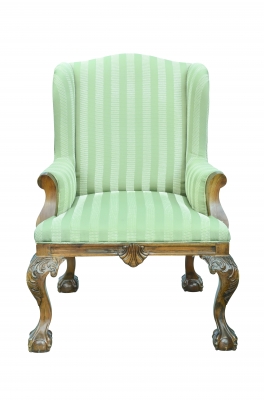 Pair with more modern furniture by contrasting colors and fabrics for an eclectic look. Even a heavy leather sofa can be softened up by the addition of some comfy pillows and accessories. Lacy accessories like doilies and tablecloths and even curtains also soften a room.
6.
Curved
– One thing that appeals to men about women is their curves and the same thing holds true for feminine furnishings. Curvy arm rests, curved backs, and natural flowing lines all add up to a more fun and flirty decorating set. In the bedroom a touch of the feminine can be added with a fabric backboard or a curved headboard and footboard. Round ottomans in the living room and an oval table in the dining room also open up the space and make it more feminine. Pair with curved chairs and an eclectic centerpiece for a warm look. Scalloped shelving is also a big yes!
7.
Light colored wood
– While dark wood is fashionable it is also very masculine. Light woods tend to be more feminine and pair well with things like pastel colors and floral accessories. Paint your chairs and furnishings white for a classic feminine French look, or stick with light woods and pillows for a more natural look that still has feminine flair.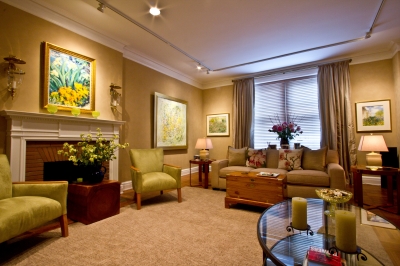 8.
Decorate the walls
– While bare walls and modern art may work with some styles, a more feminine style practically screams for wall decorations. Hang up your favorite collections of china plates, frame those family photos in thick pastel colored frames, and add flowers to the wall with bright art pieces. Sculptures with curves, natural patterns, and classic landscapes all fit in a feminine decorating theme. You can even decorate with things like hats or scarves to show off your style.
9.
Add plants
– For some reason feminine and nature seem to go hand in hand. Potted plants are a part of that. Add fresh flowers, potted plants, and even small trees to your home to bring the outdoors in and soften up a space. Look for plants with vibrant leaves and colorful flowers. Blend wildflowers and roses together for a happy look, and even artificial plants have their place.
10.
Long and flowing
– When thinking about curtains and wall decorations, think long and flowing. Sheer fabrics and ceiling to floor make a room feel more feminine. Like a long dress, this material shows off a room's curves and makes it more welcoming. While some modern homes go for short and sleek window covering and heavy wood window shades, a more feminine touch requires a bit of whimsy and allows the light to shine through.
Feminine style is full, lush, and romantic. It is all about softness and the casual. Adding a feminine flair to your modern home does not have to be a clash of cultures however. There are ways to blend the style and come through with the best of both worlds. See what strikes your fancy and what softness you can bring into your home's décor.
About the Author:
Ken Myers is an expert advisor on in-home care & related family safety issues to many websites and groups. He is a regular contributor to
www.gonannies.com
. You can get in touch with him at kmyers.ceo@gmail.com.
Want to participate in the Blinds Chalet community?
View details
Post a Comment