How to Design A Bedroom For Small Children to Share
Jan 16 2013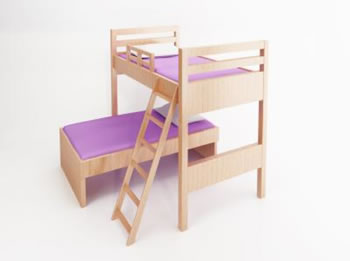 When it comes to starting a family that last thing that is on parents minds is decorating a bedroom. It can be a challenge with all the new routines and planning, without having to even begin thinking about wall charts and paint swatches.
Decorating a nursery then adapting this into a bedroom for the child as they grow older is what normally happens. However, if you are in a two bedroom property, and have a small infant and a new born baby space is always at a minimum. If you have always planned for two children, then you will have ideas in mind but there are still small home improvements that you can make without having to break the bank.
Sharing Space
It is important and critical for the older child to not feel left out or pushed out with the sudden arrival of another person sharing their bedroom space. Include your child with the painting and decorating decisions where possible (and practical for those who insist on decorating with stars and Disney characters).
The invention of bunk beds here is worth considering. The bed space will cover the same floor space, but makes bedtime a fun time. The oldest can sleep on top, but ensure there are barriers to prevent them falling out during the night.
Make a quiet space in the room for the oldest child. If you have an toddler and a new born, why not create a corner they can make their 'den'. Fill it with their toys and books and invest in a comfy chair or beanbag to add to the fact that space is theirs. To create the perfect den you can cover with a sheet when they are being supervised, or include their paintings on the walls within the den.
Some children will be happy to share toys and others not so comfortable. Keep the floor space as clear as possible to allow for playtime and interaction. Store toys away with the use of hangers that can be hung from the ceiling. Cuddly toys and non breakable toys can be stored easily without arguments over space.
Creative children like to draw and paint. If you have two small children, painting in a bedroom is not advisable. Save space and keep drawing equipment like easels or chalkboards downstairs. This will encourage children and parents to share time without having to worry about the carpet or bed linen being covered in handprints.
Saving Space
Children grow into and out of clothes so quickly and it is important to remember this fact. It is nice to keep everything but in a practical and space saving more this is not always possible. When buying furniture, opt for wardrobes that can house newborn, infant and then toddler clothes. The small wardrobes are great but they will not be able to house clothes for a growing child into a teenager. Look for
sliding door wardrobes
if space is tight instead of wardrobe doors that open out into the room. Look for sliding doors that are backed to European EN 12600 and BSI 6206 standard.
Sliding doors with mirror glass will eliminate the need for a mirror and therefore save on wall space. Always check the standards of manufacturers if you have any concerns about purchasing mirror doors.
Avoid the need for extra furniture within a small bedroom and especially furniture that can be argued over. Try to consider ways to store books and puzzles so they are not on the floor to be tripped over. One way is a bookcase, but these can be expensive, bulky and can become a fascinating piece to practice climbing on. Make use of the wall space and invest in good shelving units that have side panels. Side panels are important as this will stop books sliding off the ends of the shelves and causing a potential accident. Make sure the shelves do not become something worth swinging of lightshades to get to, place them in reach for the older children to get books from and put back – this gets them into the habit of tidying away.
Guest post contributed by Jacey on behalf of
Forsyth Glazing
, who sell sliding wardrobes and accessories online. Jacey is a DIY and home improvement enthusiast who enjoys decorating and contributes to several home improvement blogs.
Want to participate in the Blinds Chalet community?
View details
Post a Comment