Double Your Garage Storage Space
Jan 11 2013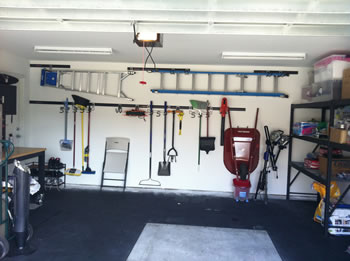 Image
via
It is the dream of almost all homeowners to own a garage that can be used to store some extra stuff. Ideally, a garage is used as a storeroom to work on the car or complete woodworking projects or maybe even a place to work with potted plants or to exercise. But the reality is quite different and garages in most houses are a total mess; a catch-all room where everything that doesn't have a home gets tossed. As a result of it, instead of being able to easily locate tools, these items are hidden beneath debris that runs the gamut from sporting equipment to outdated clothing. But the good news is that it's possible to reclaim the garage and transform it into a functional space with lots of storage.
The article below suggests some affordable ideas for getting more storage space out of your garage to ensure optimum utilization of the available space.
Say Good-Bye to Clutter
The first step is to de-clutter. For many people, this is the most difficult part of the process. We dread having to sort through the accumulated junk. Still, it's a necessary step that will make you experience a great sense of relief when the task is done. Most of the time, you will discover that you have a much bigger garage space that you thought you had, once all the clutter is gone.
Create Zones
Sort all items in the garage into different categories such as :
things to discard,
things to give away, and
things that you wish to keep.
Then, further divide these articles into smaller groups with categories like sporting equipment, camping equipment, car supplies, tools and any other appropriate divisions. These categories help you make the most efficient use of garage storage space and make it easy to locate things when they are needed.
Look Up for Storage
Most garages end up in a mess because everything gets stacked, or are tossed on the floor. When you feel that your garage space needs to be organized, look to the walls and ceiling of the garage. A few simple additions like plywood shelves, pegboard and hooks are economical and easy to use. Best of all, they keep the garage looking neat and well planned.
Add Shelves to the Upper Walls
Consider adding shelves to the upper portion of all three garage walls. Generally, shelves that are about two feet deep are advisable, but homeowners should consider the unique measurements of their space before deciding the proper depth. Homeowners who choose to build their own shelves can truly create a customized shelving space, particularly if they are adept with tools. Consider adding a plywood apron beneath the shelves to make a convenient place to drive hooks and nails that can hold any number of gardening implements or other tools. This system effectively keeps items up off the floor and gives the garage a tidy look and feel.
Determining proper shelf height is up to the discretion of the homeowner. Take a look at the tallest item that needs to be stored on the shelf and use this as a guide. These shelves can be constructed out of construction grade plywood, which is sturdy and inexpensive. Trim can be added for a more finished look, but this expense and effort is not necessary. Also, keep in mind that a two foot deep shelf is going to require bracing. Diagonally cutting square pieces of plywood provides braces of proper strength to support the items stored on the shelf. It may not be sturdy enough to hold an anvil, but the shelf will certainly stand up to camping equipment and plastic storage bins.
Make the Most Out of Pegboard
A little pegboard on the walls can make any garage a model of efficiency. Hang some above the workbench and anywhere else where there is available wall space. Utility hooks, S hooks and simple nails can all make handy places to store hand tools and garden implements. Remember to keep zones in mind when placing items on shelves or hanging them from pegboard. If you put items belonging to one category at a given place, it will always be easy to find.
Hang Sporting Equipment
These days, it's possible to find utility hooks suitable for hanging bicycles, kayaks and many other types of sporting material from walls and ceilings. Using these hooks significantly reduces garage clutter and adds to usable space. Just be sure to use a stud locator when placing these hooks. Sporting equipment tends to be heavy, and studs can certainly hold more weight than drywall.
With a lot of de-cluttering and expenses of less than $250, it's possible to revolutionize any garage's storage capacity. By looking to the walls and ceiling for extra storage space, homeowners can turn their garage into the most useful room/ space in the house.
Richard Campen is owner of
ArchwayPress Garage and House Plans
, a website with 1000's of custom
house plans
and garage plans available for purchase from leading architects around the country.
Want to participate in the Blinds Chalet community?
View details
Post a Comment