Dorm Giving You The Back To School Blues?
Sep 10 2012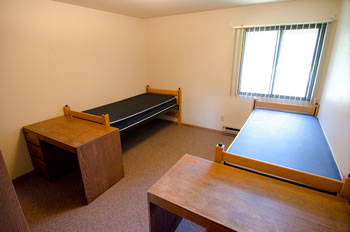 Image
Via
Heading off to college, whether your returning after summer break or as an incoming freshmen, is an exciting time. It's an opportunity to make lifelong friends, gain an invaluable education, and take part in new (possibly once-in-a-lifetime) experiences. For many individuals, it's their first chance to live apart from their parents and taste independence. However, one aspect of the college experience that can be not only anticlimactic but downright depressing is the dorm.
Dorms are rarely, if ever, anything like how they're portrayed on television or in the movies. Especially if you're going with the basic dorm option. Typically, rather than the roomy spaces seen on the silver screen, the quarters are cramped and feel about the size of a jail cell. Those hardwood floors, modern furniture, and kitchens that seem to come standard in movie and television dorms? In reality, you're probably look at scuffed linoleum, battered wood furniture that's identical to the furniture in every other dorm, and a mini-fridge. Wait, wait, wait, don't go screaming back to your parents' house or give in to dorm depression. Instead, take a deep breath and implement some of the following decorating tips to make your dorm room the envy of the college campus.
Accessorize
! Dorm rooms are typically blah (neutral) in color. You won't be permitted to paint the walls, change the flooring, or get rid of any furniture the college has elected to provide, so you're going to be stuck with that basic color palette. Don't worry though, you can still make the room fit your style by accessorizing. Choose accessories that add pops of color to the space. Use an area rug to hide that linoleum. Paint the furniture that belongs to you (ex. a bookshelf) a fun color. Add color to the room through your bedding, bath towels, desktop organizers, and any other touches you bring into the dorm. Get decals for the walls since you can't paint. If you want to get a really put together look try coordinating colors with your dorm-mate(s).
Tip: Many schools offer back to school specials near the end of the summer so hold off your accessory shopping spree until then to score a great deal!
Try bringing the great outdoors in
. If you need to purchase furniture for your dorm, aren't on a tight budget, and want something that is both unique and durable, consider rustic furniture. No, that doesn't mean throw a deer skin rug on the floor. Rustic furniture is simply furniture that's handcrafted out of natural materials such as wood or glass. Since true rustic furniture is handmade, each piece is one-of-a-kind. Those pre-existing flaws that are inherent in any handmade piece of furniture mean that any nicks and scratches (and there will be nicks and scratches) that accumulate will only add to the piece's character. Furthermore, rustic furniture tends to be very hardy which is a huge plus when you think of all the moving you'll probably be doing during your college years.
Tip: If you want true rustic furniture that's made in the U.S., colorful, and crafted with eco-friendly materials consider David Marsh Furniture. Read more about
David Marsh Furniture here
.
I don't love it...so I'll take it!
Rustic furniture can stand up to daily wear and tear - even the daily wear and tear that accompanies college life. However, if your budget is restrictive, go for furniture that is cheap but durable. You don't have to buy furniture that's going to fall apart the second you put a single text book on it, but you shouldn't go for furniture that is easily ruined or has special meaning to you such as that handmade bookcase your great-great-grandfather brought over from the old country. Instead, try:
Visiting your local thrift stores to get a steal on quality, gently used furniture.
Buying inexpensive furniture from places like Ikea.
Asking your friends and family for furniture they've got stored in their basement, garage, or attic and would like taken off their hands.
Tip: If your tempted to pass on piece of furniture that's the right price but not quite your style, consider putting in a little TLC and making it your own. With a little elbow grease you can refinish or paint most furniture and change out the hardware to give it a whole new appearance.
In college you have to multitask and so does your furniture
. One thing that's guaranteed to make your dorm depressing is clutter. Combating clutter can be tough enough under normal circumstances, but in a space that serves as your bedroom, workspace, and living area that fight can be quite the challenge. With that in mind, focus on furniture that both looks good and multitasks. A great way to make use of your limited dorm space is to get a loft bed. You sleep on top and have a built in workspace and typically drawers that can serve as a dresser beneath. Pay special attention to any piece of furniture that has built in storage or somehow compacts itself. For instance, if you use a laptop look for a wall mounted desk to save room.
Tip: In addition to multitasking furniture, look for accessories that multitask (those that look good and serve a purpose). For instance, use a magnetic spice rack to organize jewelry and hair accessories or go for a digital picture frame rather taking up every bare surface to display your photos.
Your dorm room doesn't have to make you blue; instead, it can make others green (with envy). Use personal touches of color to brighten up the neutral space, durable furniture, and items that can multitask to make your dorm fabulous and functional. Although a dorm is just a temporary space, make it feel homey and you're sure to find more enjoyment in the time you spend there. Get creative and don't be afraid to try new things.
Article contributed by Alex Webb. Alex is an HGTV addict who did a short stint in a dorm room and currently works out her living space so she knows a thing or two about being in small spaces. Follow her on Twitter @alexandriakwebb.
Want to participate in the Blinds Chalet community?
View details
Post a Comment