Shopping for Eco-Friendly Furniture and Paint
Jul 5 2012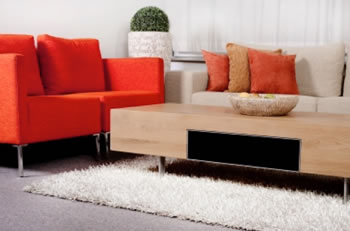 If you just moved into a new place, or are looking to revamp your current home, go green with your decorating; there is a plethora of options currently available for you to choose from. You can create a colorful office with
modern furniture
or a neutral workspace with antique inspired accents while keeping things green. Here are a few tips about shopping for eco-friendly paints and furniture.
What to Look For: Paint
As you shop for paint, there are a few things you'll want to look out for. As more and more paint companies are moving to water-based or milk-based paints, you can find the right color and finish without sacrificing quality.
Look for low or no VOCs (Volatile Organic Compounds) in the paint and colorant. VOCs are what create the strong chemical smell in a freshly painted room. They are toxic and the EPA considers VOCs to be pollutants.
Research which companies utilize natural ingredients in their paint such as milk, clay, minerals and umbers. If a company is eco-friendly, they will often include that information on their website.
Look for eco-friendly binders such as milk, collagen and water. A great water-based paint company is Stark Paint, who boasts zero-VOCs in the paint and colorants. The Old-Fashioned Milk Paint Company creates colors with a milk-base that contain zero-VOC.
Just because you're buying eco-friendly paint doesn't mean you need to break the bank. YOLO Colorhouse zero-VOC interior semi-gloss paints go for about $35 a gallon.
Of course, you'll want to look for companies that offer samples. Test out the product before you buy a gallon to see how many coats you'll need to get the exact finish and color you're after. And if you're on a deadline, you'll want to know the approximate dry times needed to get the final look.
What to Look For: Furniture
Whether you are decorating the home or getting new office furniture, you don't have to worry about buying something that isn't environmentally friendly. The most important thing to do when looking for eco-friendly furniture is research.
Look the word "reclaimed". The Wooden Duck, a company based in Berkeley, CA utilizes reclaimed lumber and FSC Certified Bamboo in making the majority of their furniture.
Search out companies focused on the environmental impact of their products. Steelcase created the Think chair which is up to 98% recyclable by weight. Disassembly for recycling takes about five minutes using common tools and this chair is made from up to 37% recycled content.
LEED the way. The U.S. Green Building Council and LEED (Leadership in Energy and Environmental Design) provide frameworks for identifying and implementing practical and measurable green building design, construction, operations and maintenance solutions. Look for LEED certification when shopping.
Look into what materials each product you're buying is made of. Herman Miller is one company that lists out exactly what materials are used as their furniture is created. You can find out exactly what percentage of the material is recycled by visiting their site's Materials Program.
What to Look For: Miscellaneous
A room isn't just the paint or the furniture. What about rugs, knick-knacks and everything in between? Once you've found the perfect paint and furniture, room accessories come into play.
Look for websites that have a focus on sustainability and green products. A great place to shop for unique and interesting eco-friendly gifts is Uncommon Goods.
Look for a company that lists where their materials came from. Similar to the paints and furniture, the more you know about where things come from, the better off you are in making a decision. Nigel's Eco Store gives detailed information for each eco-friendly product on their site.
Making the most of eco-friendly furniture and paint is a great way to give your office or home an interior design update. The best tip for buying is to conduct research. Think about your wants, needs and budget to find the best fitting, environmentally friendly products for you.
Bio: Erica Bell is a small business writer who focuses on topics such as productivity and social media trends. She is a web content writer for
Business.com
.
Want to participate in the Blinds Chalet community?
View details
Post a Comment