Q:
Regarding Comfort Track: Do these fasten with magnetic strips for removal to tilt out windows?
A: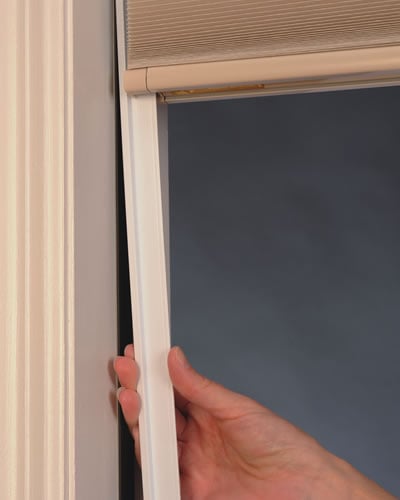 Comfrtrack Shades
with removable sidetrack
ComforTrack shades offer sidetracks to insulate your windows and save on energy bills. Each side track is attached to the window frame with magnets making them removable. The durable, UV stable sidetracks are offered in either white or tan to match your decor and side track shades.
Each side track on the
Comfort Track shades
have a flex seal that is hidden between the cellular shades and the sidetrack. As the window shade opens and closes, the seal stays tight creating an energy tight seal. The final barrier is a fuzzy weather stripping seal between the top of the ComforTrack shades and the window frame.
Although traditional
cellular shades
insulate, the ComforTrack plus energy saving sidetrack system closes the gaps along the sides of the window frame, preventing cool air from leaking and warm air from escaping, saving energy. ComforTrack shades are the ultimate energy saving window treatment.
Bookmark/Share this page: