Blackout Roller Shades w/ Black Fascia Valance
Q:
I am interested in a blackout roller shade. Is it possible to get a black aluminum fascia valance as an upgrade rather than the a fascia that is the same color as the fabric?
A: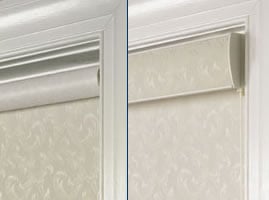 No Valance vs. Cassette Headrail

Each of our roll up blinds can be upgraded with a cassette headrail, fabric wrapped fascia or an aluminum fascia valance. Both the cassette headrail and the fabric wrapped fascia come with matching fabric on the front of the valance. For an aluminum fascia, the paint is color coordinated with the fabric selection of the roller shades. This color can be custom ordered to a specific color such as a black valance. Simply call customer service and we can adjust your order for you at the time the order is placed.

Standard roller blinds have a visible roll at the top of the shades as well as visible brackets. The cassette headrail or valances hide these items for cleaner looking window blinds.

Roller shades come in various fabrics. Choose from blackout fabrics, light filtering or even screen fabrics. Fabric selection will determine the light control of the shades as well as the privacy. Buy your roller shades today!
1
answers