Q:
Please tell me the difference between EnergyTrack and ComforTrack 3/8" blackout double cell shades. ComforTrack is more expensive is it because its fabric is thicker and better materials? Is the EnergyTrack blackout double cell shades the same materials as the translucent which has a lot of pin holes?
A: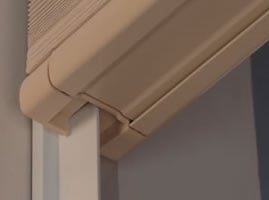 ComforTrack Honeycomb Cell Shades

The Energytrack and Comfortrack honeycomb cell shades are identical. The Energytrack our private label product made just for us, while the Comfortrack is the name brand. Both cell shades are made from the same manufacturer using the same fabrics and parts.

Honeycomb shades add a layer of insulation between your windows and your home. This added insulation means lower energy bills. ComforTrack cell shades add even more insulation than the average cell shades. Each ComforTrack shade comes with sidetracks that create an added insulation barrier between the window frame and the window shades.

Another benefit of the side tracks on the ComforTrack cell shades is light control. With window shades some light may pass along the edges of the windows between the window frame and the window shades. With the added sidetracks of the ComforTrack shades, more light is blocked along the edges of the shades.

The added benefits of the ComforTrack shades make them the best insulators for lower energy bills and the best blackout shades we offer. Whether you choose the brand name ComforTrack or our private label EnergyTrack shades you are sure to be pleased.
1
answers