Q:
Can you cut the window blinds so they wrap around the tile in my window sill? I have different widths in my window frame. The bottom is smaller where the tile protrudes into the window than at the top.
A: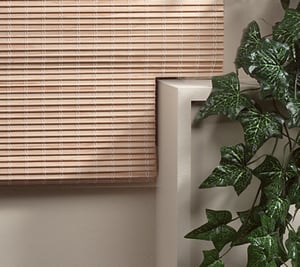 Bamboo Shades With Tile Cutout
All of our window blinds and shades are custom made to each customers specifications. We can custom cut most of our window blinds and shades to varying widths for clearance around objects. This is referred to as a "tile cutout" and there is a minimal fee to make the extra cuts to the
blinds
.
Cut-outs allow the window blinds to conform to the shape of the window. Whether you have chair rail trim, tile, door know, or any object that would interfere with the window blinds, cut outs can provide the clearance around these items.
Because our
are custom made call us if you have any special requests or needs. Our friendly customer service staff is knowledgeable and ready to assist you.
Bookmark/Share this page: