Q:
I have a condo and in the main living are there are 2 sets of patio doors that are covered with 1 inch metal Venetian blinds. I would like to upgrade to wood but cannot fit a 2 inch blind on the patio doors. I want to keep the look the same on all the doors and windows as it is an open area and I want to keep the continuity. what would you suggest?
A: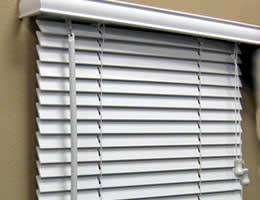 We carry both wood and faux wood blinds that come in a 1 inch slat. You can mount 2 inch blinds on a french door but they extend out farther from the door into the room than 1 inch blinds. The smaller slat blinds offer a slim elegant look to your doors.

Each blind can be attached at the bottom of the door with hold down brackets. This will keep the blinds secure as the door opens and closes. Because each of our blinds are custom made make sure you order the blinds with both the lift and the tilt controls on the same side as the door hinges. This will prevent the cords from getting in the door as it closes.
1
answers