Q:
I am trying to figure out the best window blinds or shades for very large windows. What do you recommend?
A: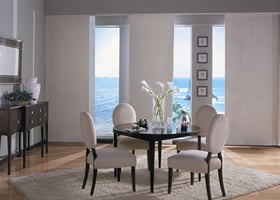 Traditional window blinds and shades including 2" blinds that pull upwards won't work well on very large windows. They gather at the top and get in the way not to mention they become heavy. The most popular window blind for very large windows are vertical blinds. Vertical blinds are designed to traverse large spans such as patio or sliding doors because they stack to the sides of the window.

Because vertical blinds are not the most aesthetically pleasing window coverings we offer other options for your large windows including sliding panel track blinds and bamboo drapery panels.

Panel track blinds come in various fabrics including screen fabric and bamboo or privacy and blackout fabrics. Panel track blinds, like vertical blinds stack to the sides of the window. Rather than small vanes, panel track blinds come with larger panels for a cleaner look.

Bamboo drapery panels are another great alternative. They come with grommets to attach at the top to a drapery rod and simply slide to the side of the patio door.

Whatever you needs for very large window blinds, Blinds Chalet is sure we can help. Buy your blinds online and save!
1
answers