Q:
I am interested in real wood blinds. What is better? stained or painted wood blinds.
A: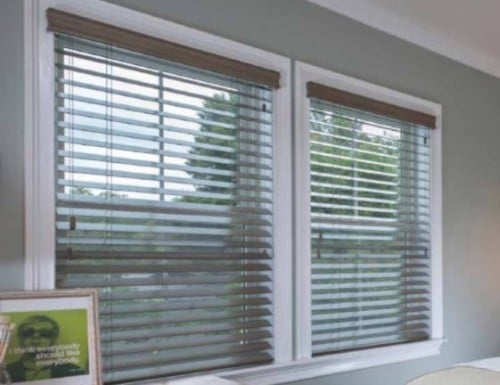 Traditionally, stained wood blinds have been the most popular. Recently however, the trend has been towards painted wood blinds. Wood blinds come in a variety of wood stains and paint colors. It is best to select a color or stain which matches the decor of the room in which they are going in.
When selecting a wood blind color you can either match or contrast the
blinds
to the rest of the room. You may want to try and match the wood blinds to the rest of the wood furniture or you may contrast the room with white painted wood blinds. If you have wood floors you may also want to match the wood blinds to the floors.
Typical paint colors are
white blinds
but wood blinds can be painted in any color. Shop our Designer's Choice Wood Blinds for the most
colorful wood blinds
.
Stained wood blinds range from light stain colors such as maple, oak and natural to dark stains such as mahogany, cherry, pecan, walnut or chestnut. Wood stained blinds showcase the natural wood grain and color.
Bookmark/Share this page: