Q:
My windows will require blinds mounted externally. If I buy a product that does not have a cornice option what covers the top of the fixture?
A: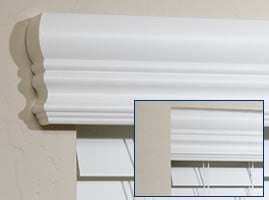 Inside Mount "Cornice Style" Valance vs Standard Crown Valance
The cornice style valance is really only an upgrade for inside mount blinds. On outside mount blinds, whether you order the cornice style valance or not the end result is the same. Each outside mount wood or
faux wood blinds
offer a valance with sides or returns to cover the brackets and sides of the headrail. The outside mount valance looks just like the cornice valance with longer returns or sides.
A cornice valance simply put is made from the same material as our standard valances. A standard valance will fit within the window frame with the blinds on inside mount. With the cornice style valance, the valance will be about 2 inches wider than the window frame and have returns at ninety degrees to create a cornice like look to the
valance
.
Bookmark/Share this page: