Honeycomb Cellular Shades without White on the Street Side?
Q:
What color is the back side of the honeycomb cellular shades? I would like both sides the same color. Does Blinds Chalet offer a honeycomb cellular shade that doesn't have white on the street side or the side of the cell shade that you see when looking at your home from outside?
A:
The short answer is NO. All of the honeycomb cellular shade products we carry on our website only have white on the street side. Street side refers to the side of the cell shade facing towards the outside of your home. Basically that side that people see when looking at your house from the outside. The neutral white color to the street keeps the cellular shades compliant with home owners associations.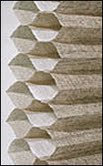 Accolade Linen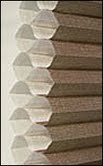 Espresso

We do not currently offer cellular shades with the same color on the street side on our website. All of our cell shades online offer the feature of changing the interior sides color or the side that you see when you are inside your home. If you have any other questions regarding these products, please give us a call.

1
answers