Q:
Will any of your shades surface mount as on a French wood door that is an inside swing?
A: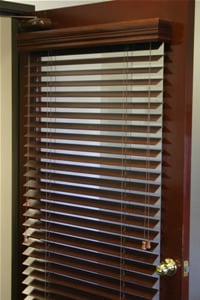 Door Mount Blinds

Just about any of our window shades can be mounted to a wood door. Simply order as an outside mount shade and request hold down brackets. The window shades mount on the door above the window and are secured at the bottom with hold downs.

Window blinds and shades vary in depth and some will extend out farther from the door than others. Typically we recommend 1 inch blinds or cell shades as they are tighter to the door. 2 inch blinds can also be mounted on a french door.

One disadvantage to french door blinds and shades is they need to be attached to the door at the bottom. The blinds cannot be raised without first removing them from the brackets. Horizontal blinds can still be titled open and closed. Some window shades can be operated with a top down lift control. This allows the blinds to be lowered with the bottom still attached to the door.

If you have any questions about ordering door mount blinds please contact customer service. Buy your french door blinds and shades today!
1
answers