Q:
I am looking for a vertical blind with real wood vanes. Do you carry real wood vertical blinds?
A: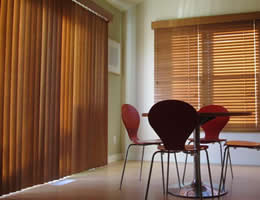 Real Wood Vertical Blinds
Yes, we do carry real wood vertical blinds and they even match the stains of our horizontal wood blinds. Our
Limited Edition line of wood blinds
and cornices are all color coordinated to match so you can install a wooden vertical blind next to a window with a
wood blind
. This luxurious designer series are also made in USA!
Each real wood vertical blind come with thicker real wood vanes in a wide rang of colors. All of wood vertical blinds also come with a matching real wood valance to cover the headrail at the top of the
blinds
.
Choose from either our flat wood vane or an s-curve vane vertical blinds. Buy your real wood blinds today!
Bookmark/Share this page: