Q:
regarding the signature wood cornices. Do you sell them without the strange emblem in the center? I'm looking for something plain without the key connector.
A: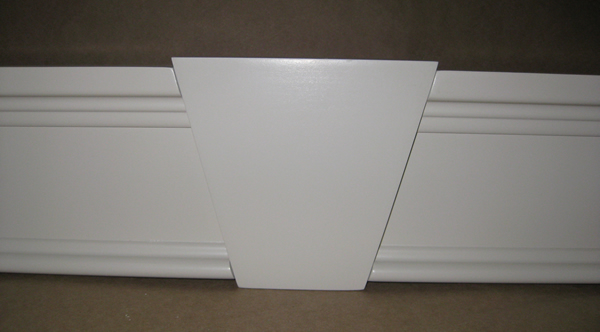 Real Wood Cornice Key Connector

On our signature wood cornices the key connector in the center is only on larger cornices over 96". Smaller cornices under 96" are plain wood cornices and will not have a key connector unless requested. This is due to the size limitations of the wood they are made from. Larger real wood cornices must be spliced. The key connector is just a decorative way to join the sections of the cornice together.

Wood cornices are a great way to finish off any window covering. Perfect over wood blinds, draperies, vertical blinds and more. Our signature wood cornices are stained or painted to match our signature wood blinds however the colors work well with any other window treatments.

In addition to our Signature wood cornice we also offer the more elegant and decorative Platinum Wood Cornice for those who want more than a plain wood cornice.

Shop online and save big on wood cornices. Free shipping, custom made cornices to your size and color. Built locally and shipped direct to your home. Do it yourself and save big! Buy your custom made real wood cornice today!
1
answers