Q:
I need to cover my large sliding doors. What options do you have for patio doors?
A: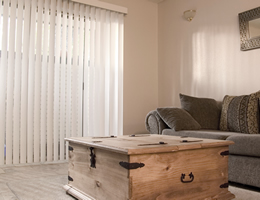 If you're looking for window treatments, you've probably already went through so many options, from drapes to shades. But for a practical but beautiful way to cover your windows or sliding doors, vertical blinds might just be the way to go.

As the name implies, the slants on Vertical Blinds go up and down, and they can be pulled across the windows for privacy or pulled back to let the warm sunlight in. Besides their practicality, these blinds are also attractive alternatives to other window treatments. Blinds Chalet carries a plethora of options to choose from to fit anyone's needs. From classic PVC blinds to cool-looking wood grain models, there's bound to be an option that you will love.

Additionally, Vertical Blinds from Blinds Chalet come from manufacturers who makes it their goal to create products that are not only durable but are also safe for everyone's enjoyment. Best of all, these Vertical Blinds are inexpensive and can easily fit anyone's home renovation budget. Order with confidence today!
1
answers