Continuous Cord Loop Blinds - Rollease
Q:
Could you explain in greater detail the Rollease or Continuous Cord Loop lift upgrade?
A: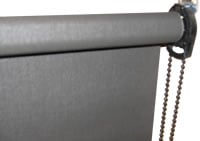 Continuous cord loop blinds operates using a cord attached to a pulley. Unlike standard lift cords, a continuous cord loop lift loops or returns back to the headrail, creating one endless cord. Pulling the cord one direction raises the shades and pulling it the opposite direction lowers the window shades. The shade will stop at the height and hold position when the operation of the cord is stopped. The continuous cord loop lift system makes raising larger window blinds easier and is ideal for making larger blinds easier to raise and lower.

Although the continuous cord loop or rollease option is available on many different window blinds one of the most common application is roller blinds. Some other applications include cellular shades, roman shades, bamboo shades and more.

The continuous cord loop system can be on either side of the shade. The cord color as well as the material it is made of may vary by product. Most cords are made of polyester, some have a plastic or metal beaded chain.


Advantages of the Continuous Cord Loop Lift System
Easy to raise larger, heavier shades.
Shades stop in the position you want.
Cords can be attached with cleat to keep them out of the way.
Easily stop adjacent shades at the same height.
1
answers