Add Glamour to Your Home with Wall Lighting
Jan 29 2014
If you've just bought yourself a new home, you probably have an image of a dream home in mind – the perfect nest of beauty and comfort. Whether it's earthy and laid back or modern minimalist, one thing that cuts across the eyes of different preferences in home decoration is lighting. Any space can look and feel different in accordance to the type of lighting fixture installed.
Humans react to our environment, and the right lighting can exude the right mood for a conversation, whet your appetite for a meal, add a homey feel to a bathroom, bring a sense of warmth to a family movie, or make a romantic meeting more memorable.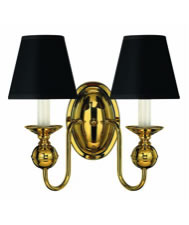 Wall lighting
Wall lighting is unique in the sense that it doesn't simply add light to a space; it serves as a fantastic piece of decorative work on any wall. Stylish lighting fixtures on your walls can make any living room, bathroom, or bedroom look more interesting. Even better, wall lighting makes do with no space at all compared to standing lights or ceiling lights that can hang too low.
Installing wall lights at different corners of a room can give a space a completely different feel. Wall lights are easily one of the most effective ways of transforming a room's look and ambience without spending thousands of dollars on lush interior decorations. You can use wall lights to light up a dark corner, highlight a special feature, or bring people's focus onto a certain area.
Below, we will discuss a few ideas on how you can use wall lighting to glamourize your home.
Personalize your space

Your bedroom is YOUR space, so you should put as much of yourself into it as you can. Consider installing a variety of wall sconces in your room to accent your wall and to suit your taste.



Accentuate your favorite features

Lighting brings a person's focus onto whatever the light is shining on, so use that knowledge when installing your light fixtures. Direct focus to special architectural features, artwork, photographs, or furniture that you'd like to stand out by strategically positioning wall lighting. There are various uplights, downlights, and pinlights that you can opt for to do the trick.




Use adjustable lights for areas you'd want to set the mood in

Adding adjustable lights can allow you to set the mood in areas such as your living room and bedroom. You can easily turn up the lights to brighten parties or give better visibility when you're working late at night. You can then dim them when you're having an intimate gathering or getting ready for bed. The intensity of your lighting will have a marked effect on the mood of whoever's in the room, and can drastically change the ambience of a room.



LED light up your kitchen

Gone are the days when the kitchen was a dreary area where wives would toil tirelessly making meals and washing dishes. These days, the kitchen is a go-to place in the household, and as such, it is often artfully designed to be open and welcoming. Consider installing LED lights around cabinets and kitchen islands to give everything a kick of glamour.



Use light to create texture on plain walls

Bare walls can be glaringly conspicuous in an otherwise well-decorated home. Putting up decorative pieces to fill walls can only do so much and can even look tacky when overdone. Consider positioning different wall lighting fixtures to make streaks of light on bare walls, creating a beautiful overall look.



Wall lighting isn't just for indoors

Don't forget the outside of your house! The proper use of uplights and downlights can make your home stand out and look amazing in the evenings. Try installing lights along the roof of your house and along the floor to show off its lovely architecture.


No matter what type of lighting you need, we at Capitol Lighting have got you covered. We carry a wide array of wall lighting options to suit any type of home and special need.

Don't settle for anything less than your dream home. Use wall lighting to give some personality and glamour to your home today.


Michele Duchet is an Interior designer at 1800lighting.com in NJ, USA and she works with schools and homeowners to help create a safe an elegant home decor, that feature lighting with a variety of lights and lamps
Post a Comment