Pinterest-Inspired Living Room Ideas
Pinterest-Inspired Living Room Ideas
Oct 4 2013
If you're thinking of redoing your living room, there's no better place to go for inspiration than Pinterest. This visual social media site is full of all kinds of ideas. You can search for ideas just like you would if you were using a search engine. Within minutes you'll have all kinds of ideas.
Before you start sifting through boards, remember to answer a few questions first:
What do you use your living room for?
How well will the furniture hold up in your household?
What style do you prefer?
If you don't have the answers to these questions, you'll likely get lost on Pinterest. You'll love every design and steer yourself towards a motif that isn't right for you or your family.
Once you've answered the questions, let the fun begin. Head to Pinterest and start browsing. Here's a look at few of the great living room ideas on Pinterest:
Crisp and clean
If you're going for a more modern look, consider decorating in fresh, light colors. By combining white furniture with glass tables and black accent bookcases,
this design
offers a futuristic look. This look is popular with single 20 and 30 somethings. Obviously, white furniture isn't a great choice if you have kids.
Focal piece
In some cases, you can use one piece of furniture to create a focal point in the room. A
large circular couch could do the trick
, or a large piece of artwork that's centered in the room. If you go in this direction, all of your other decorating choices will center around this option. You won't want to select pieces of furniture or decorations that take away from the focal point.
Pops of color
You don't have to spend a lot to shake up your living room motif. You'd be surprised what a
few brightly colored throw pillows
can do to your room. If you have a neutral colored couch, you can get away with just about any color pillow. Add a few pieces of art with dashes of the same color to your wall to complete the look.
Funky blinds
Blinds have come a long way since your grandmother's time. You can get some great looking
roller blinds
, with all kinds of
vibrant prints
. Again, it's an affordable option if you're looking to add a little pizzazz to your living room.
Elegance
If you use your living room to entertain, rather than relax, consider adding more
decorative furniture
. Obviously, this isn't the kind of furniture you and your husband would watch the game on; it's more decorative than functional.
Of course, this is just a sample of what you can find on Pinterest. Once you've settled on a design, mull it over for a week or so. After all, you're about to redo one of the most well-used rooms in your home; you don't want to rush into anything.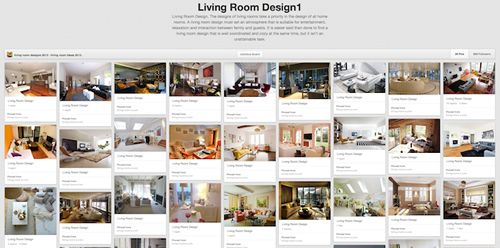 Post a Comment