Five Ways to Get More Space From Your Kitchen
Sep 9 2013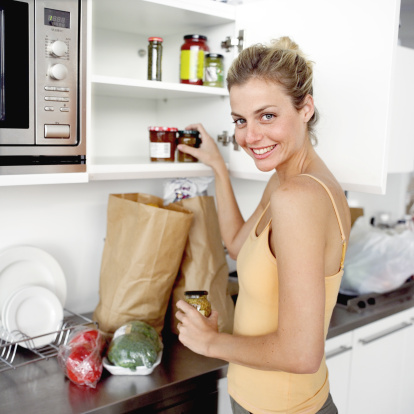 Renovating your kitchen is costly and is an arduous task. Why not rearrange things to maximize your area instead? Maybe you can add other touches of elegance starting from
stone tiles
or
quartz tiles
as well among other decoratives. In any case, you can achieve and create more space in the kitchen with the following ways:
Five Ways to Get More Space From Your Kitchen
1. Be Free From Clutter
There are a lot of things used to prepare food, make food and serve food in each meal. All these things converge in the kitchen. Especially when you are busy and too tired to clean up the mess, they may stay for days or even months without being put back to proper order. It's important to get into the habit of freeing your kitchen countertops from clutter to make room for your appliances and drawers where you can store more things. Also, dispose spoiled food and tired appliances that are not usable even after repairs.
2. Make Use of the Wall
The wall is there not only to serve as a separator between your kitchen and your dining area, living room, or other parts of the house but also to be an added area where you can mount kitchen essentials. A good idea is to mount a knife strip, a stainless steel bar with S-hooks, a spice rack or a simple container for utensils that are most frequently used. The wall space can also be posted with shelves for additional storage to easily reach salt and pepper, tea bags and other condiments. You can also hang a wire basket using a hook that extends from the wall to contain vegetablesthat don't require refrigeration like potatoes, garlic and onions. Shelves can be adjustedand customized to store taller items such as vases and water jugs.
3. Disregard Duplicates
Unless you are a collector of kitchen stuff that would be displayed in the next few years in a fancy gallery, it's never great to keep duplicates if you intend to create more space in the kitchen. For instance, if you have three chopping boards, consider giving the other two away or place the extras in your garage. If you have a set of wooden spoons of the same size, keep only ones that would be enough for everyday use. Pitching duplicates will help you see the things that bring the most value in your kitchen as well.
4. Use Insides and Undersides
In most cases, the insides and undersides of cabinets, cupboards and appliances are overlooked. If you're not using your microwave often, it can be a good storage area for your everyday bread pan. Organize your drawers by putting labels on the outside and know immediately where you can access paper towels, knives, spoons, forks, etc. If you have extra plates and wares you don't use often, consider storing them on the top part of your cabinet. The goal is to always keep these out of sight and make the kitchen appear roomy and light.
5. Go for Smaller Appliances
If you don't really need a giant refrigerator, exchange it for a smaller one, which can still accommodate and store all your grocery items that are enough for at least three to five days. Apply the same concept with other appliances that normally take up a pretty large space in the kitchen. The thing is that you have to match your everyday lifestyle with the size of these appliances. If you're not the type that has a big family or one who regularly invites a big group of relatives or friends to dine into your house, then smaller stoves and dishwashers may fit you just fine.
Conclusion
Finding extra storage in your kitchen can be challenging especially if you really have a small space in your kitchen and you think that everything is so tight. Look at the floor plan and the overall picture before proceeding to make order out of chaos. Maximize your space and begin to work wonders with these tips above.
Author Bio:
Aubrey Madrona is a Social Media Specialist. She loves Music and spends a lot of her time playing piano and reading. She's currently building her reputation as an online writer o Marble Mosaics Blog.
Post a Comment