What Are Exterior Porch Shades? Also Known as Patio Shades.
Jul 2 2013
Exterior porch shades are shades made for outdoor use. Both the screen material and hardware are built to withstand the elements. The screen material is woven in a pattern that allows it to block UV light. The tighter the pattern, the more UV light is blocked.
UV rays
not only harm your skin but they will heat up your home. Exterior shades are ideal for blocking UV rays while not blocking the view. These shades also come with brackets that keep them from swaying during windy periods.
Each exterior shade comes standard in a 4, 6, 8 or 10 feet oil-rubbed bronze headrail. Each shade height will be 8 feet when lowered. The width of these exterior shades can be cut down for a fee. Exterior shades are perfect for porches, patios, decks or sunrooms.
Three Types Of Exterior Porch Shades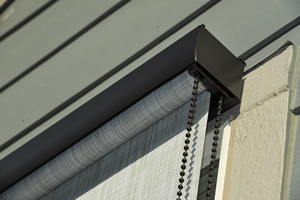 There are three types of
exterior porch shades
. These are standard cord lift, titanium pole and crank, and motorized. For this post we will highlight and explain the differences between the three different types of exterior shades below.
Standard Cord Lift
– Each cord lift exterior porch shade comes standard with a cord lift control on the right hand side of the shade. When ordering, you may move the lift cord to the left if that is more convenient for you. Tension is applied to the shade to keep it tight and prevent sagging.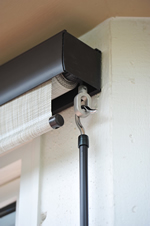 Titanium Pole Crank
– This type of exterior porch shade is both pet and child-safe. The crank mechanism is tucked up into the headrail. To raise and lower the shade, you simply insert the pole and crank it up or down. Aside from being child-safe, this also prevents someone from raising or lowering the shade without the pole. There is a slight upgrade fee for this feature.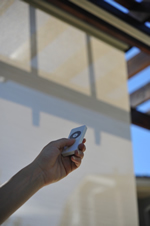 Motorization
– This is the most convenient option for your exterior porch shade. Motorized shades are controlled by a remote control. A standard remote will come with your motorized shade, but you can also incorporate this shade into your home control automation system. The motorized exterior shade is by far the most popular option. Some weather conditions could make it hard and inconvenient to manually adjust your exterior shades. These shades are also pet and child-safe. There is an upgrade fee associated with this feature.
Picking The Right Exterior Porch Shade
Blinds Chalet offers two types of exterior porch shades in a variety of colors. Picking the right shade all boils down to what features you are looking for. The Exterior Solar Sun Screen is our standard porch shade that comes in three colors: Cabo Sand with 86% UV Block, Monterey with 88% UV Block, and Pebble Beach with 85% UV Block. You can view these colors
here
. This shade is only available with the standard cord lift.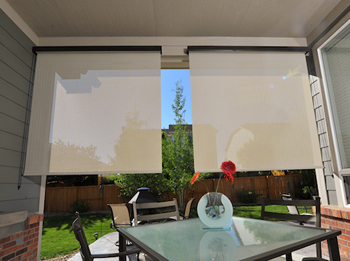 The second type of exterior porch shade that we offer is the Exterior Solar Sun Screen Plus. This shade is available in four colors: Maui with 72% UV Block, Tropic Bahama with 85% UV Block, Caribbean with 90% UV Block, and Kona with 90% UV Block. You can view these colors
here
. This shade is available in standard cord lift, titanium pole crank and motorization.
In Conclusion
Regardless of where you live, exterior porch shades offer incredible benefits. Blocking harmful UV rays and insulating your space are just a few. Since exterior porch shades are exposed to the elements all year round, we recommend that you purchase your shades from a company that provides you with a lifetime warranty like Blinds Chalet. Please post comments below and we will do our best to answer them
by Brandon Jolley
Post a Comment