Your Own Private Paradise: How to Make the Most of Your Garden
Mar 14 2012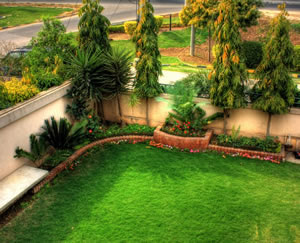 If you want to create a little piece of paradise at home, a garden is the best place to start. Gardens provide plants and wildlife, decoration, space and entertainment. You can sit in a chair, look at the flowers and butterflies and consider the meaning of life or invite friends round for picnics and barbeques.
Boundaries
A peaceful garden needs boundaries and an entrance. In most properties, the boundaries are fences or walls shared with neighbours. As long as the fences and walls are in good condition, they make excellent growing frames. Climbing roses can decorate the sunnier spots while climbing hydrangeas are excellent plants for the shade. Plant some jasmine, especially white jasmine, for a quick-growing covering plant that will wind through a trellis fence and give a lovely evening aroma. Pergolas with roses, vines or other climbing plants make excellent entrances to a garden. You can also train the branches of trees to grow into an entrance arch. Even elderflower and philadelphus (mock orange) can adapt this way.
Lawns
Lawns provide most of the feeling of space in private gardens. It's important to get good
lawn care
from the outset to avoid back-breaking tasks such as moss removal. Choose a lawn seed suitable to your lifestyle. There are hardy versions that are quite resistant to most children and pets. Ask guests to exercise a little bit of common sense with footwear when visiting. Five-inch stiletto shoes cause havoc to the hardiest lawns.
Water Features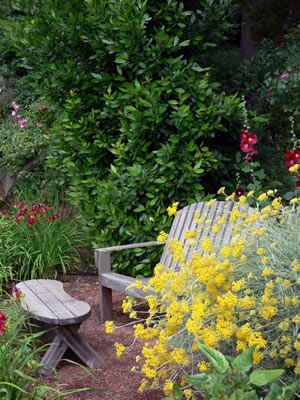 The sound and sight of a water feature is one of the most peaceful elements in a garden. You can have a pond, a cascade or a slowly flowing stream. A water feature needs to be located in a sheltered and partially shaded position. This avoids water losses through wind and evaporation. Free-standing features with battery-powered pumps and LED lighting cut out the need for electrical and mains water connections that may be expensive to install.
Flowers
Plan the flower beds, vegetable patch and water feature around the lawn and any garden furniture. Asters, buddleias, cornflowers and clover attract butterflies. These plants need to be in a sunny location as the butterflies resting on them need the sun for warmth. Lilies can grow to over six feet high in a semi-shaded spot. They produce a wonderful scent and repel slugs and snails from any neighbouring plants.
Herbs and Vegetables
Don't worry about a strict division between vegetables and flowers. Herbs grow happily in between flowers. Flat-leaf parsley and oregano make remarkable borders around flower beds. They also attract honey bees, an endangered species these days. Bees love aromatic herbs such as thyme, mint and rosemary. Sweet peppers and chilli peppers are colourful enough plants for any flower garden. Curry plants provide a relaxing aroma, grow just about anywhere and can even survive an average British winter.
Wind
The sound of wind rustling through trees produces a relaxing effect. Dedicate a corner of the garden, if you have the space, to a rowan tree (mountain ash), which attracts birds and a linden tree, which attracts and protects bees. The wonderful aroma of linden blossom heralds July. Collect some linden blossom and dry it in the oven to keep for those winter days to make a relaxing cup of tea.
This guest post was written by Francesca, a freelance writer and blogger who enjoys sharing her knowledge of gardening and interior design. She currently writes on behalf of
Green Thumb
.
Want to participate in the Blinds Chalet community?
View details
Post a Comment