Q:
I am interested in your faux wood wood cornice valance. I am wondering how long, top to bottom, they are?
A: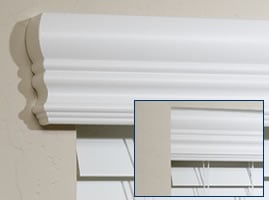 With each of our faux wood blinds we offer a free crown valance. Each faux wood crown valance is about 3 inches high. Many of our custom faux wood blinds offer a free cornice style valance upgrade. A cornice valance is made with the same crown molding as our standard valance but the valance is made to sit outside the window frame.

The width of a standard crown molding valance varies based on the application. For standard inside mount, the valance is usually about 1/8 inch shorter than the measurement provided. With a cornice style valance on inside mount blinds, the valance is about two inches wider than the window measurement. The valance also has returns to finish the ends of the valance. For outside mount valances, the valance is made to wrap around the headrail with three inch returns, hiding the sides of the headrail as well as the mounting brackets.
1
answers