Q:
Do you carry pinoleum blinds? What is the difference between pinoleum blinds and bamboo shades or is there a difference?
A: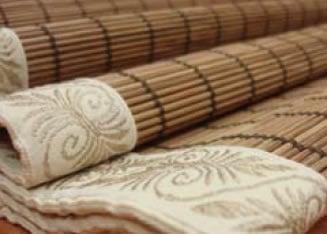 Pinoleum Blinds are made from bamboo, thin reeds, jute, rattan or Pinoleum slats woven together. Pinoleum Blinds are great because they filter the sunlight, letting in daylight while still providing privacy during the daytime. Upgrade to a moveable liner to make a complete privacy shade during the night hours. Pinoleum shades are designed for the glass roof of a conservatory. Because pinoleum roof blinds are made from bamboo wood slats they do not sag in the middle like fabric shades. For this reason they make excellent roof blinds.

Sometimes referred to as french pinoleum blinds because they originally were manufactured in Paris for colonial decor. Pinoleum blinds use traditional materials such as reeds, bamboo, and wood. Bamboo and reeds are exccellent sources for woven wood blinds because they are a sustainable resource.

Pinoluem shades come in either roman style bamboo shades or roll up bamboo shades. Because they are woven with various reeds, bamboo, and other materials a variety of patterns, colors, and styles. Different patterns can also create various degrees of light filtration. Smaller reeds and bamboo allow more light to pass through the shades while larger wood slats block more light.

Our woven wood blinds come in either standard roman bamboo shades or roll up blinds. Upgrade any of our roman bamboo shades with free edge binding. Adding a fabric edge to the shades adds more color and style while protecting the bamboo and reed edges. Buy bamboo shades today!
1
answers