Q:
When I add the Tavarua Woven Wood Shades in the color Laguna Umber, I cannot add the edge binding but if I choose a different color, I can add that option. It that offer only on certain items? Also, I cannot find the product information on the window depth for an inside mount application. I have 3/4". Is that enough?
A: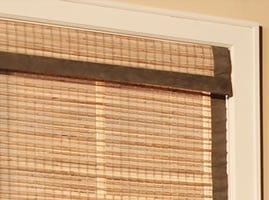 With our bamboo reed shades we offer free edge binding. We do this because we feel the fabric protects the delicate bamboo, grasses, and reeds of the woven shades. The fabric edge binding also adds a decorative accent to the window shades.

The minimum depth required to even be able to install the bamboo blinds is 1 inches. If you want the blinds to fit flush inside your window frame you will need 2 1/4 inches. You can always mount the window shades as an outside mount blind on the wall above the window frame. To do this you would need to add about 3 inches to the width and height of the window frame for proper coverage.
1
answers