Lined Roman Shades - Room Darkening Roman Shades
Q:
I would like to order 3 roman shades and I needed a few information before completing the order:
1. Do you ship to Canada?
2. Is the textured linen roman shade could be lined to cut the light?

A: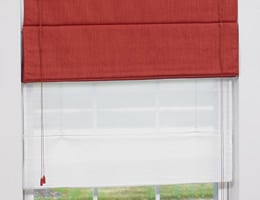 We do not ship to Canada. We can ship anywhere in the lower 48 states and offer free shipping on all our window blinds orders. You would need to make arrangements from there to Canada.

We are unable to line these roman shades but do offer other room darkening roman shades. We also have blackout day night roman shades that are two shades in one. Day night shades are designed with a standard roman shade as well as a translucent liner. Both the roman shades and the liner can be raised independently with their own lift cord. Lower the blackout roman shades to block light from entering the room. Raise the blackout roman shades, keeping the liner lowered for filtered light to enter the room giving privacy during the daytime. Raise both shades for an unobstructed view.
1
answers
Bookmark/Share this page: