Q:
How can I order the 4" trim or edge binding samples for the bamboo shades?
A: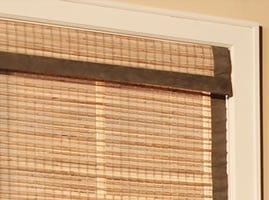 Pecan fabric edge binding

Although we do not offer free samples online for our fabric edge binding for our woven wood shades, we have samples we can send for any of the colors of the trim you would like to see. Simply call or email us with your desired fabric trim choices and we will send you free samples.

Because edge binding is made from fabric there is a wide selection of colors. Choose a color that accents your decor. Use the edge binding color to accent other items in the room such as the paint, furniture, or other items in the room.

Fabric edge binding comes in either two inch or four inch sizes. Because the fabric is wrapped around the edge of the woven wood shades approximately half of the edge binding is visible on the front of the shades. For instance, a standard two inch edge binding would be show one inch of fabric on the front of the shades and one inch on the backside of the shades.

Upgrade any of bamboo shades with fabric edge binding. Edge binding is designed to protect the edges of the bamboo shades as well as add color and style to the shades. Edge binding is made from fabric and comes in a variety of colors. Watch for our free edge binding upgrades.
1
answers