Q:
What is edge binding woven wood shades?
A: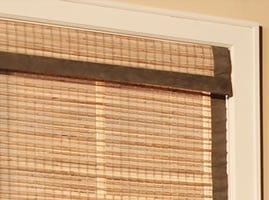 4 inch Edge Binding in the color Pecan

Edge binding is a fabric that is wrapped around the edges of the bamboo woven wood shades to protect the delicate bamboo on the sides of the woven wood shades while adding a decorative color to accent the decor. Edge binding is available in a multitude of colors and styles as well as different sizes.

The two inch edge binding offers a thinner cloth when wrapped around the bamboo blinds, about one inch of the color is visible. The thicker 4 inch fabric edge binding offers a bolder look.

Edge binding is recommended for bamboo shades and creates a more finished look to natural woven wood shades. Look for free edge binding with the purchase of our woven wood shades.
1
answers