Q:
What is the difference between the crown valance and the cornice style valance? I am interested in your faux wood or wood blinds and would like to know the difference before I make my purchase.
A:
Crown Valance

Crown valances simply refer to the style or contour of the valance material used. The majority of our wood blinds and faux wood blinds come with a free crown valance. The standard crown valance sits inside the window frame with the blinds.

Cornice Style Valance


A cornice style valance is a crown molding valance but offers an outside mount style valance on inside mount blinds. What this means is the crown molding window valance is designed wider than the window frame and had sides or returns to create a cornice look at the top of the venetian blinds. The cornice style valance offers a unique and beautiful look to your window. Each of our cornice style valances are made from a crown valance. Because the cornice style valance is wider than the window we do not recommend choosing this free upgrade if you have any obstructions around your window such as existing molding, trim, walls, or cabinets.

Valance Styles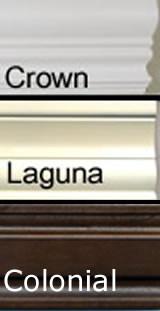 Each of our real wood blinds and our faux wood blinds come standard with a free decorative valance to hide the headrail and mounting brackets. We currently offer 3 different styles of valances.


Crown Valance
Our most popular valance contour. Available with the majority of our venetian blinds.
Laguna Valance
Available only with our platinum wood blinds
Colonial Valance
Available only with our signature wood blinds



Many of our most popular faux wood and wood blinds have the option for a free cornice style valance. If you have any questions about crown valances, please call us at 888-633-7840 and we would be happy to help.
1
answers