Arch Top Faux Wood Blinds
Q:
How do I install 2" faux wood blinds on an arch top window? Where does the middle support bracket attach?
A: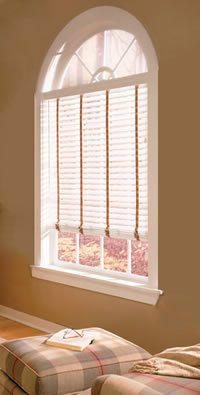 Arch Top Faux Wood Blinds

When mounting faux wood blinds in an arch top window, the blinds are mounted just below where the arch begins, covering the lower portion of the window and leaving the top portion open. The arch at the top can be covered with an arch window treatment or left open.

Because the brackets on faux wood blinds can be mounted to the sides of the window frame, the blinds can be installed just where the arch begins in the window. To measure the height for the arch faux wood blinds, measure from the bottom of the window frame to the beginning of the arch.

For wider windows a center support bracket is supplied. This bracket may not be able to be installed on some arch top windows. The only option would be to mount the bracket behind the blinds if the window has a center divider able to support it.

1
answers