Flat Panel Roman Shades - Flat Style Roman Shades
Q:
How can I select flat style roman shades when checking out? I cannot find where to upgrade the roman shades and make sure flat style design is selected.
A: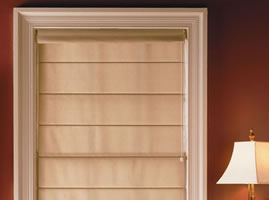 Flat Style Roman Shades

Flat panel roman shades is not an upgrade. Unless otherwise specified, all of our roman shades are flat panel roman shades by default with an optional hobbled fold upgrade. So unless you select the hobbled fold upgrade on the product you will receive flat style roman shades.

Roman shades are designed with "panels" or fabric with horizontal seams typically about six inches apart. With Flat style roman shades, the fabric between each fold is tight when the shades are lowered. On hobbled style roman shades there is extra fabric on each panel creating a rippled look to the roman blinds. Because hobbled fold roman shades use more fabric to manufacture the shades they typically cost more. Watch for our free hobbled fold upgrade!
1
answers
Bookmark/Share this page: