Q:
Hi, Do your platinum 2 inch wood blinds have returns on the Valance? Do they cover the side of the metal blind casing? And should I order them "Cornice Style", or not? They are Outside Mount Blinds going over a wood casing.
A: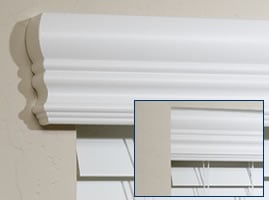 Cornice style vs standard valance

With outside mount wood blinds we always send a crown molding valance with returns mitered at 45 degrees to cover the mounting brackets and the headrail. On our Platinum wooden blinds we offer a cornice style option. This only applies to inside mount wood blinds as outside mount blinds always come with the returns to cover the sides of the headrail.

On inside mount blinds manufacturers typically offer a valance that fits inside the window frame with the blinds. On many of our wooden blinds such as our Platinum wood blinds, we offer a free "cornice style" valance upgrade. This type of valance with sit outside the window frame while the real wood blinds sits within the window. The cornice style valance comes about two inches wider than the blinds and has short returns to create a more decorative look to the blinds.
1
answers