Privacy Liner for Roman Shades
Q:
On the textured roman shades is there a privacy liner on them because I am interested in them for a bedroom. Thanks I would also be ordering them top down bottom up.
A: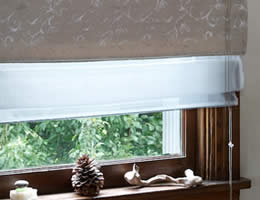 Day Night Roman Shades

We do not offer a privacy liner for that particular Roman Shade. The fabric is a privacy fabric and does not need a liner. We do however offer a few options for roman shades with liners. Choose from our day night shades as well as our fusion roman shades.

Day & night shades are essentially two shades in one. Each shade can be operated independently and have their own lift cords. Lower both shades for privacy and light control. Lower the sheer liner with the roman shade raised for light filtration and privacy during the daytime or raise both shades for an unobstructed view. Choose from either light filtering or blackout fabrics.

Fusion roman shades offer a roman shade with an attached cell shade liner. This roman shade is designed with insulation in mind. With the elegant look of a roman shade and the insulating benefits of a cell shade, the fusion shades are sure to lower your energy bills.
1
answers
Bookmark/Share this page: