Q:
I am looking for the best living room window treatments. What window blinds or shades do you recommend?
A: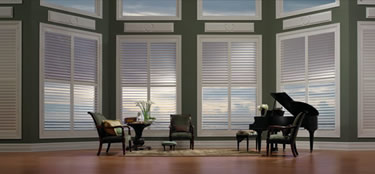 The living room is an area of the home where there is a lot of time spent with the family. Make sure you select a window treatment that is warm and inviting. Privacy may also be a concern. Find a window treatment that will provide privacy as well as add color and style. Below are some recommendations for the best living room window treatments.

Wood Blinds
Real wood blinds are a popular option for living room blinds. Because they are made from real wood and come in both paints and stains they can match the trim or other wood furniture in the room. Wood blinds are great for privacy as well.

Plantation Shutters
Plantation shutters are an elegant way to cover your windows in your living room and are very popular living room window treatments for custom homes. One challenge with living room windows is their size. Plantation shutters are great for larger hard to cover windows. Shutters come in both real wood or synthetic materials and are available in both stain as well as white paints. Many home buyers like the look of shutters and adding them can help the resale of your home.

Cellular Shades
Cellular shades are popular living room window treatments because they come in both light filtering as well as blackout fabrics. Another popular option is top down bottom up. This option allows the window shades to be lowered from the top down, covering the bottom portion of the window for privacy while allowing light to enter the room on the top of the window.

Whatever your home decor needs, Blinds Chalet is sure to help you find a window treatment perfect for your living room. Shop online, get free shipping and save so buy your living room window treatments today!
1
answers