Q:
I am looking for dark wood stain blinds and wondered which wood blind offers them.
A: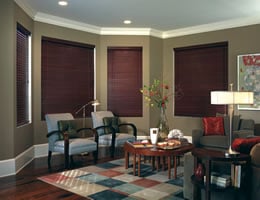 Blinds Chalet carries many different wood blinds.
Each wood blind has it's own range of paints and stain colors. Just because the photo of a product has a light wood blind doesn't mean the product is not available in a dark stain color. Browse each wood blind and order free samples so you can see the colors.
Blinds Chalet offers many dark wood blinds including
mahogany wood blinds
,
chestnut wood blinds
,
cherry wood blinds
,
walnut wood blinds
and more. Each wood blind has it's own stain colors which may or may not match another product stains.
Shop our wood blind collection and get FREE shipping on your order. Let Blinds Chalet assist you with your dark wood stain blinds purchase today!
Bookmark/Share this page: